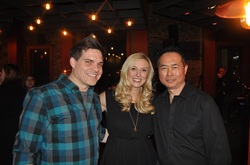 A big Thank You to the Jesse Ryan Project and the Family Ferlic for helping us rock out and raise money to build a tree house for Bailey!

---
In late January, One Good Deed Michiana hosted a benefit concert to raise money to build a tree house for 8 year old Bailey Bennett! Bailey is battling his second bout of brain cancer. He is a strong and inspiring little boy and all he wants is to have a really cool tree house in his back yard! The Jesse Ryan Project and The Family Ferlic performed on stage and fine art photographer Maggie Drew Logie held an art show to help us reach our goal! We sold out LaSalle Kitchen & Tavern in South Bend and had a blast! Thank you to all who came and who have offered to volunteer with the build! Construction begins this month! Stay tuned to OGD to see Bailey's tree house!

OGD Michiana Celebrates our 1 Year Anniversary with a surprise!
It has been an incredible year for all of us at One Good Deed Michiana! We have honored 8 amazing people in our community who go out of their way to help others!

We celebrated with an anniversary picnic with our recipients, their families and those who nominated them along with some of our supporters. It was a great way to remember the past year and to keep in touch. We also wanted to let them be in on the surprise for our newest recipient, Seabe Gavin!

Seabe thought he was coming in honor of someone else and had no idea that he was the one who would be receiving the recognition! You can learn more about Seabe on our Recipients page.

In addition to recognizing 8 wonderful people, we have also created a memorial scholarship fund in my late husband, Robert Freeze's name, sponsored 5 kids at the Boys and Girls Club, supported a local woman battling cancer, the South Bend Center for the Homeless Children's Center, and made large children's book donations to two area preschools and much more! And, we owe all of it to our amazing sponsors! Life is all about the friends we make along our journey and we are so thankful to have met so many awesome people in our community!

As always...Keep up the good work, one good deed at a time!

---
We are always finding ways to make sure we are having fun while making a difference in people's lives! Here are some of the images from our past events!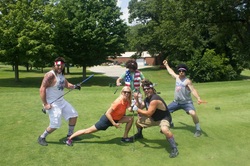 The 3rd Annual Freezer Memorial Golf Outing

The 3rd annual Freezer Memorial Golf Outing was our most successful event yet! 36 teams from all over Michiana came together to honor my late husband, Rob Freeze and to have a great time! Of course, my favorite part is the team photo competition! You can check all of them out on the Robert Freezer Memorial Golf Outing facebook page!

This year's "Freezer" was held at Hampshire Country Club in Dowagiac, Mi.

We are already working on next year's event to make it even better! We will keep you posted so that you can mark your calendars!

---
Vyagra Falls to play benefit concert for OGD Michiana!

On January 18th, 2014, Vyagra Falls will play a concert at at Martha's Midway Tavern in Mishawaka with proceeds benefiting One Good Deed Michiana. This band is made up of local doctors. The Rockin' Docs play cover songs from the 70's, 80's and 90's. Get your dancing shoes ready and stay tuned for more details to come!

Thank you to everyone who came to our 10% night at Texas Roadhouse!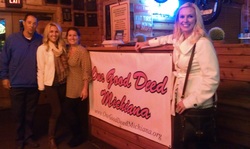 The money raised will be donated to Lindsey Cloutier, a Niles resident who is battling her third bout of leukemia. We appreciate everyone who came out to support her.

---