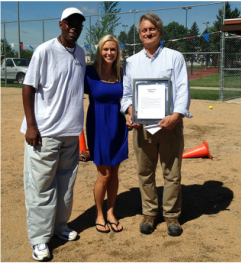 Jeff Antkowiak earns a "Token of Our Appreciation!"

Jeff Antkowiak was nominated by Seabe Gavin for Jeff's unselfish dedication to the girls at the Martin Luther King Jr. Center in South Bend. Seabe created a free softball camp for girls at the MLK Jr. Center. The two met by chance and after Seabe told Jeff about his goals with the camp, he has been there to help every step of the way.

Jeff has purchased a pitching machine, balls, new bats, helmets, portable hitting cages and uniforms. He drags and lines the field every weekend. He also buys food, drinks, snacks, and water everyday for the girls.

Gavin writes "He shows up everyday and asks, 'what can I do?' It is a true blessing. His goal is to prove their is positive life on the west side of South Bend!"

Both of these gentlemen, Jeff and Seabe, are exactly that...positive role models, not only for the west side but all of South Bend! Keep up the good work guys and keep making a difference!!


---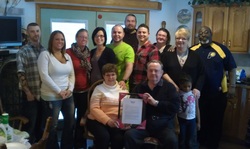 Nancy & Bill Winland receive a "Token of Our Appreciation!"

Nancy and Bill were nominated by their grandson Adam because of the impact they have had, not only on his life, but on the lives of so many. They have been the parents that some have never had. They have given their home and hearts to help when others have had no place else to go...a shoulder to cry on, a positive influence and a friend.

Adam says, "Through all the routes my and the other peoples lives could have gone that lived with them, most of us have turned out well or better than we would have without them. These two people are by far the most influential people in my life and in many other people's lives."

Their impact was felt when we arrived at their home to surprise them with their "Token." There was a house full of family, friends and love. What a great couple! Keep up the great work Nancy and Bill!
---
Christy Buss is our next "Token of Our Appreciation" Recipient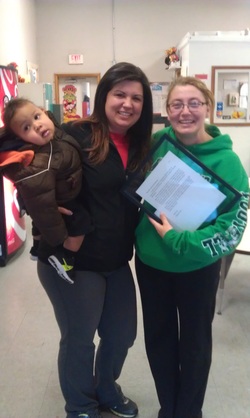 Christy Buss is the owner of Pinecrest Preschool and Daycare in Elkhart. She was nominated for "A Token of Our Appreciation" by Stephanie Elam who says Christy will do anything for the kids and their families.

"Christy provides food and a place to live for families in need. She works with parents who are struggling financially to help their children receive safe and reliable daycare. She often pays out of her own pocket for children to participate in field trips when the parents cannot afford it. She also volunteers her time with the Osolo Little League."

Elam says, "She truly cares about children and their future." Keep up the good work Christy, One Good Deed at a time!
---
Jose Saldivar is our first "Token of Our Appreciation" Recipient!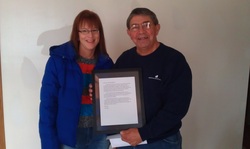 Jose Saldivar of LaPorte, IN is our first "Token" recipient! Jose was nominated by Terri Ekins. She says "my husband passed away the day before Thanksgiving last year while waiting for a heart transplant. Without asking, my neighbor, Jose has helped me with issues around my house...he was there every step of the way... I didn't know this man before my husband passed... He is doing all of this out of the goodness of his heart and my kids and I can't thank him enough!"

One Good Deed Michiana has partnered up with Martin's Super Markets for our "Tokens."
---