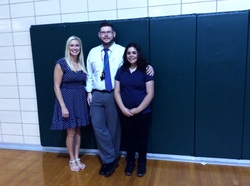 Patrick Higgins is more than just a teacher!
Mr. Patrick Higgins is a teacher at Brown Intermediate Center in South Bend, where he is making a big difference in the lives of his students. So much so that one of his students, Rayana Michalak nominated him to be recognized by One Good Deed Michiana.

"My teacher, Patrick Higgins, is amazing!" Michalak said. "He is a father figure. He helps you keep your cool and to deal with issues that you can't figure out. He is the dad you wish you had. He has helped me with everything. He deserves this."

We surprised Mr. Higgins and Ryana along with their 8th grade class with the help of Assistant Principal Melissa LaPlace. Melissa says Patrick is a great teacher who makes learning fun!


---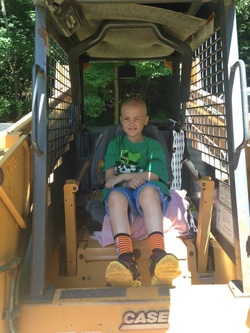 A Tree House for Bailey!

Bailey Bennett of Niles has been battling brain cancer for most of his young life. When his mom, Stef, asked him what he wants to be when he grows up, he told her "I just want to be a normal kid." So when we asked Stef what we could do to make him feel "normal" she said that he had always dreamed about having a tree house! Thanks to our gracious friends and supporters, we raised enough money to make Bailey's dream come true! Brian Shier of Shier Signature Home put nail to board and created an awesome space right in Bailey's back yard!
---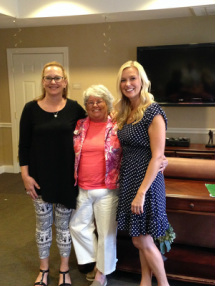 Leslie Kolkowaski is making a difference in the lives of residents at
The Hearth at Juday Creek!

---
Leslie Kolkowaski is one of the most giving people I know. She volunteers at the hospital one day a week. She prepares food and volunteers for funeral services at St. Pius. But, most of all she has provided many residents at the Hearth Assisted Living Home a night of fun every week. She has done this for over two and a half years and continues to do it every week.

She began playing Bunco with the residents every Thursday in the fall of 2012. Leslie did not have relatives or know anyone residing at the Hearth, she did it because she is a kind and deeply caring person. Every week Leslie created fun name tags. She would say "a person's name is very important to them". She felt it was necessary that the helpers could call each resident by their name. She would go into the dining room with a huge smile to recruit players. Many of them would say that they didn't know how or couldn't for one reason or another. She wasn't good at taking no for an answer.

Leslie would show up many times so excited that she had found some great prizes at the Dollar Store or the Christmas Tree Shops. She then figured out that the residents had more fun playing for nickels and she purchased little bags for the winner's nickels and provided the nickels for everyone. When she couldn't drive after dark and didn't have a ride, her husband Jim brought her and picked her up. Nothing was going to stop Leslie from creating a great evening for the residents.

If you talk to Leslie you will find and agree with me that one of her greatest joys comes from making other's happy. If you ask her, she will tell you that seeing the smiles on the residents' faces is a blessing to her. It is hard to believe that someone can be so selfless.

Sincerely,

Debbie Tuttle

As an added surprise, we surprised Debbie Tuttle with a "Token of our Appreciation" for all of the work she is doing at The Hearth. Here is the nomination letter submitted on Debbie's behalf:

Debbie Tuttle first came to us looking for a place for her brother to live. Mark had experienced many health issues for many years and Debbie lovingly cared for him. When he moved in, Debbie immediately became involved in our community. She took the time to learn about our residents, she spoke to them, shared her time with them and genuinely came to love many of them. Debbie even loaded up some residents and took them to her lake cottage to enjoy a summer day. Debbie also started a Bunco club and game night for our residents on Thursday evenings, bringing in snacks and good cheer. Debbie had also moved her mother into our Memory Care unit and also was selfless in the giving of her time and love to other residents on that unit. After both of her family.members passed away, Debbie continued to visit and care for other residents. She also sat with and comforted a resident that was dying because he had no other family with him. These are just a few of the many things that make Debbie such a caring individual. We lovingly nominate Debbie Tuttle to be honored by One Good Deed Michiana! She truly deserves it!

Sincerely,

All of us at The Hearth at Juday Creek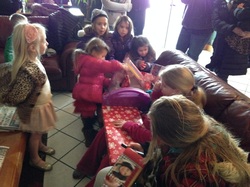 Families In Need
This holiday season, all of us at One Good Deed Michiana felt compelled to reach out and help 3 local families who needed a hand in making Christmas a bit happier for their children. Our little elves surprised the three families from Knox, Lakeville and South Bend with a sleigh full of toys and warm clothes. Thank you to Martin's Super Markets, Flourish Boutique and Camellia's Cosmetics for helping us with our efforts!

---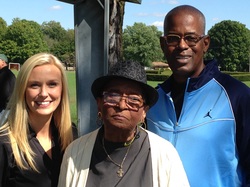 Seabe Gavin, Jr. is our next recipient!
Seabe Gavin, Jr. is using athletics as a way to help children in our community. Gavin created the "Swing Like a Girl Softball Camp" at the Martin Luther King Jr. Center on South Bend's west side. The camp is free of charge for all girls who have a desire to learn the game of softball. No child will be turned away because of economic status.

Gavin was nominated by a former camper, Katie Boocher, who has gone on to become a varsity softball coach at Riley High School. Boocher says, "He gives you a simple answer to a more complex problem, allowing you to truly solve it for yourself. He makes you find the truth of the matter through guidance... I talk to him all the time about coaching and teaching struggles and he always gives me positive, uplifting advice."

Jeff Antkowiak, a volunteer at Gavin's camp agrees. "Seabe says that it is all about the girls. But in reality it is more than that. It is about families. It is about neighborhoods. It is about the community. It is about people like Seabe Gavin who realize that even one person can make a difference. The Christopher's have a saying, "It is better to light one candle than to curse the darkness." Seabe Gavin's candle casts a bright glow in this community."

Gavin is involved in mentoring kids at the MLK Jr. Center, Mount Carmel Baptist Church and at Riley High School. If you are interested in learning more about his camp, please check out their facebook page at https://www.facebook.com/SwingLikeAGirlFreeSoftballCamp?fref=ts


---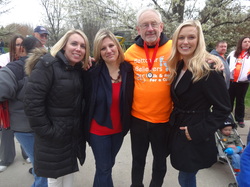 Meet our newest recipient, Mike Metcalf!
Mike has become known as someone who will give the shirt off his back to help someone out! But, he has especially affected the life of Ray Bieganski.

Ray says, "in May of 2003 I was involved in a motorcycle accident that left me completely paralyzed from my shoulders down. I was 51 years young at the time of my accident and could not imagine what life was going to be like without the use of my hands, arms and legs. Mike Metcalfe... has been my wife and my "Guardian Angel" for the past 11 years.

Their loyalty and friendship provided my wife and I with the strength to continue on with a life of depression and aggravation."

Mike was nominated by Ray's daughter, Kara Palmer, who says "When many of my family ran and had too busy of lives to help, Mike and Sue Metcalf were the first in line to help. They came over to pray with my parents, do therapy, help with any kind of yard work or other house maintenance and just be as supportive as they could be."

Kara goes on to say that Mike is "an outstanding individual that we have grown to love and respect like family."

One Good Deed Michiana surprised Mike at the conclusion of the Walk MS Michiana race on the campus of IUSB, where a huge group of friends and family were there to support and share in the surprise! For more pictures from Mike's surprise, go to our facebook page at https://www.facebook.com/OneGoodDeedMichiana.








---
Pat Touhey is our next One Good Deed Michiana recipient!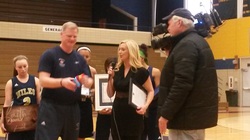 Pat Touhey is the varsity girls basketball coach at Niles High School. Over the years, he has touched the lives of so many young ladies, on and off the court. Pat has dedicated himself to teaching and mentoring and as a result, his entire team nominated him to be recognized by One Good Deed Michiana.

This is what his players have to say about him: "Coach Touhey is so much more than a Coach to us. He is like a father, a mentor, a disciplinarian and most of all a friend... He is tough, demanding, a perfectionist and a somewhat vocal coach who will push each of us to perform to the best of our abilities not just on the court, but in the classroom, in the community and throughout our lives."

"He has given us hope, the understanding of responsibility, knowledge and skills for the game of basketball, his time and finances but most importantly his love! Coach Touhey is the father figure some of us did not have growing up, he is the person that can instill faith in us when we think everyone has given up or when we want to give up on ourselves. The impact he has made in our lives is huge; some of us now have hopes of going to college and some of us have hopes of even playing basketball in college... He has molded our team into a family and we have learned to love each other and our differences, work together, overcome obstacles and to put forth the best effort in every aspect of our lives to be a better person everyday!"

His Vikings basketball team did not win a single game last season, but he and the players never gave up and dedicated themselves over the summer to improve. That hard work is paying off! The Vikings have started the '13-14 season winning 7 of their first 8 games and taking the Coldwater Holiday Tournament championship!

Congratulations Coach Touhey, keep up the great work...One Good Deed at a time!


---
Ellen Van Arsdale is our next recipient!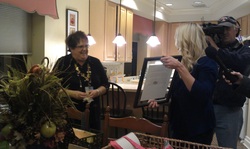 Ellen Van Arsdale is a volunteer at Ronald McDonald Family Room. Here is an excerpt from her nomination letter, explaining how she touches so many lives just by being herself.

"Ellen constantly goes above and beyond.

She is an amazing lady who always greets everyone with a smile. She prepares dinner twice per month with her volunteer partner Rich. She prepares a FEAST every other week that the families look forward too.

I cannot begin to imagine the cost of what she spends to put the smiles on our families faces and I know she is always happy to do it. She jumps in whenever we need her and lives her life to the fullest and enjoys making others happy without recognition for what she does. I don't know what we would do without her!"


---
Janet Price of Warsaw is our first recipient!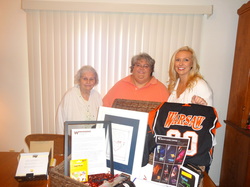 Janet Price of Warsaw, IN is our first recipient for One Good Deed Michiana. Janet embodies the spirit of giving to others on a daily basis.

Here is an excerpt from the nomination letter submitted by Doug Ogle:

"Janet lives to help others. Janet's main focuses for encouragement are her childcare kids and their families, her friends, and, of course, Tiger Basketball. Janet is consistently great in the following ways:

- providing food for meals, usually homemade, for people who are going through a loss or a difficult time

- working to help host big events such as a graduation parties, wedding receptions or funeral lunches

- working to improve yards and homes of friends, including installing fence, cleaning and painting

- sending encouragement cards

- sending birthday cards and buying birthday gifts for a wide circle of people

- providing baskets of goodies and or gifts in celebration of Easter, Thanksgiving and Christmas

- taking pictures, getting them developed, and then sending them to those in the pictures

At the risk of being trite, you cannot put a 'Price' on someone who gives as much love and energy as Janet does. You show me somebody who does more good deeds than Janet Price in any length of time and I will show you a loving, caring and hardworking person the likes of which do not come around very often."
---
Times-Union Article: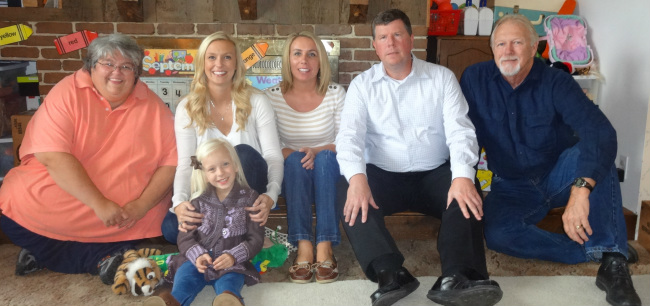 Tiger Basketball Super Fan Receives Recognition
Jennifer Peryam
Times-Union Staff Writer
Warsaw Tiger basketball fan Janet Price had surprise visitors at her Warsaw home Sunday.
Allison Hayes, former FOX 28 sports anchor, who now works for the Big Ten Network; Hayes' daughter, Emery; and Doug Ogle, Warsaw boy's basketball coach, paid a visit to Price's home.
Ogle's family, Warsaw Tigers men's basketball players, and Hal Gunter, assistant varsity boy's basketball coach, also attended.
Hayes presented Price with the One Good Deed Michiana recognition that Ogle nominated Price to receive.
The recognition was to show appreciation for Price's commitment in supporting the Warsaw Tigers basketball team for the past 20 years and serving the community. Price, 37, has been attending Tiger basketball games since she was six months old.
Price is the first recipient of the honor for people who think of others. Plans are to honor six people per year, Hayes said.
Hayes began the non-profit organization, One Good Deed Michiana, a year ago to honor her husband, Robert Freeze, who died in a car accident last summer.
Hayes said she and her daughter have experienced a lot of kindness not only from friends and family, but also from people they hardly know.
Hayes said it taught her that there are people who go out of their way to help others.
She started the organization to let people know that what they are doing, no matter how big or small, can make a difference.
Hayes presented Price with a gift basket filled with season tickets for Price and her mother to attend Wagon Wheel Theatre, donated by the theatre, as well as Bennigan's restaurant and Owen's Super Market donated gift certificates and framed artwork by Nancy Swan Drew.
Price also received a Nikon digital camera, tripod and case as well as some photography classes from Blosser's Photography, because she loves taking photographs and sharing them with friends.
Price also received a framed nomination letter written by Ogle and a Warsaw Tigers jersey.
"The idea is to let her know that what she is doing is appreciated and we hope she inspires others to do the same," Hayes said.
Price provides goodie bags after every away game with motivational sayings, and treats for players during home games.
She also provides gift bags for team members for Christmas and Valentine's Day, and takes hundreds of pictures of team members at games, gets them developed, and then gives them to the players.
In addition to providing the basketball players with treats and gifts, she serves the community by providing meals for people who are going through a difficult time, sends encouragement cards, and provides baskets of treats to the community.
Ogle said he first met Price when he was her seventh grade math teacher, and they connected because she loves basketball as much as he does.
Ogle said he has stayed in contact with Price over the years when she has attended home games with her mother, Carol.
"The team of Janet and Carol Price are to acts of kindness what Rodgers and Hammerstein were to Broadway musicals – creative, talented, and prolific," Ogle said.
Gunter said Price has a big heart.
"She is very special and we are glad that she is a part of our basketball program," Gunter said.
Price said she was surprised to be recognized.
"It means a lot to receive this recognition and I am emotional to think they cared enough to honor me," Price said with tears in her eyes.
Price said there are 77 days until the first men's game of the year and she made a countdown chart.
Price operates a daycare in her home and said her mother watches the daycare children so she can attend away Tiger games.
Carol said her daughter started going to Tiger games when she was six months old.
Tiger basketball players Nick Sands, Tim Swanson and Cameron Hoskins showed up at Price's home Sunday to show their appreciation.
"She is kind of like a second mom and the amount of care she has for the team is great," Swanson said.
"The number one super fan is what she is, it means a lot to have her support," Price said.
Follow One Good Deed Michiana on Facebook and at
www.onegooddeedmichiana.org
People can nominate someone for the recognition by emailing Hayes at
ahayes@onegooddeedmichiana.org
---